Today an agent got shot in a village next to Amsterdam. It was a big shock to all people with their hearts at the right place.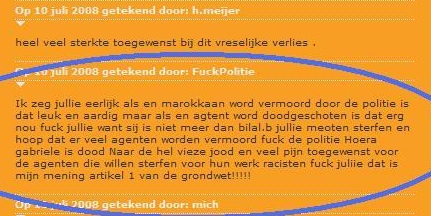 I watched what happened. The main newspaper in the Netherlands, Telegraaf, wrote an article about this on the front page online. This newspaper is far ahead others, they allow their readers to react to almost all articles they write online. For this reason they will be a winner in the end. The article about this lady cop, got an enormous amount of reactions. More than any other news item. When I write this, it totalled over 800 reactions.
Then the Dutch condolence register, a bit plain but still popular, got an enormous amount of reactions. And among them a very ugly one. This again got picked up by the shockblog Geenstijl. And then people react again to this guy leaving this ugly anti-condolence to this agent.
What a circle, and how interesting to see that people are now fully and visibly involved with everything that is happening. It gives me more trust, that there are many people who think as you do yourself. You feel more understood, if you recognize yourself in these reactions.