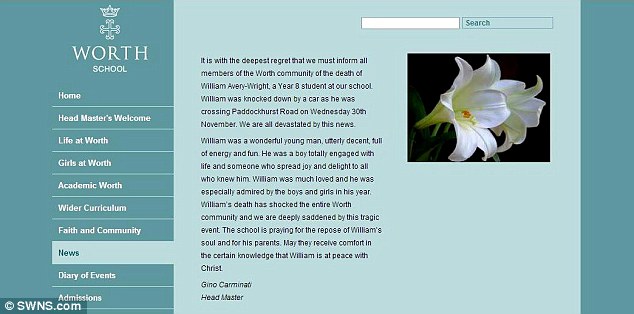 A father learned that his 13-year-old son had been killed in a road accident when the boy's public school announced it on its website.
William Avery-Wright had been knocked down by a Land Rover as he crossed a main road on his way to rugby practice.
He was taken to hospital after the accident at £30,000-a-year Worth School in Crawley, West Sussex, where he was later pronounced dead.
His father, Christopher, was contacted but was only told that his son had been injured.
But as he was being driven by police to hospital, he was inundated with messages of condolence on his mobile phone from well-wishers who had read about the death on the school's website.
Staff had posted a hasty tribute to the youngster before the 48-year-old insurance broker had been informed that he had died.
William's mother, Lisa, was already at the hospital, but had been advised not to break the news of his death to her husband until he was there.
She said: 'I was taken to hospital by the police. They said not to tell Christopher what had happened on the phone and that it was an appalling way to break the news.'
But the Roman Catholic boarding school wasted no time in announcing the pupil's death online, publishing a tribute and sending out an email to parents.
Read the entire article HERE